Life Insurance for Heavy Drinkers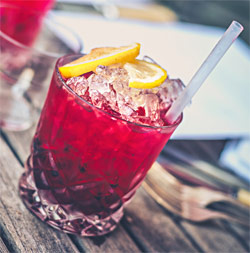 Although life insurance companies are not primarily concerned about the quantity of alcohol you consume, they are of course concerned about your health and how the alcohol you imbibe affects your well-being.
Excessive and heavy alcohol consumption can lead to various chronic health problems such as liver and gastrointestinal issues, depression, dementia, heart disease, and strokes.
Life insurance companies in general will not be hesitant about increasing life insurance rates for those who over-indulge in alcohol on a regular basis. In fact, some companies may preclude you from their "preferred rates" category merely for consuming two drinks each day, where drinking four or more drinks each day can invalidate your ability to gain "standard rates" life insurance.
Should you have a history of heavy alcohol usage and you have a DUI on your record or have attended Alcoholic Anonymous meetings, it can in fact lead to a lot more expense when buying life insurance. A number of life insurance carriers may indeed decline your application.
Get a life insurance quote if you are a drinker
The Medical Examination
Most life insurance companies require applicants to undertake a medical examination, and one aspect that the examination will cover is your alcohol consumption. Thus, even when alcohol use is not mentioned on your application form, a test which checks liver function will reveal the facts.
If abnormal liver functions are shown within the results of your medical examination, an immediate assumption may be taken by life insurance companies that this is symptomatic of excessive alcohol consumption. Nevertheless, if there is any doubt, then you may be asked to undertake an "alcohol marker" test to substantiate the liver abnormalities in order to verify they are alcohol related or otherwise.
Even if the results attest to the fact that there is no correlation to alcohol consumption, due to abnormal liver functions, you may still be categorized as a health risk and therefore only offered an expensive life insurance rate.
DUI on Your Driving Record
Should you have a DUI on your driving record, within the first three years of receiving the charge, you can expect to pay a high premium for life insurance. Once the three years have passed, and presuming that your current health is good and your medical history is favorable, you may be offered a standard rate.
If the court has ordered you to undergo a drug rehabilitation program, upon completion of the program your chances for more attractive life insurance rates rise. Nevertheless, multiple drug or alcohol-related traffic violations can place you within the "non-insurable" category.
Get a customized life insurance quote
Conclusion
Unfortunately, there's no getting away from it. Should you have any alcohol related problems on your record, you should mention it on your life insurance application. Any misinformation is seen as fraud and can render the policy as invalid.
Nevertheless, there are several life ins companies whereby alcohol-related issues are treated more favorably by the underwriters. Screening tens of companies in order to find the best suited may seem like an arduous task, but the internet makes light work of it. In fact, by using online life insurance providers, you'll probably find the best rates regardless you have a serious drinking problem or otherwise.