Key Man & Key Person Life Insurance Costs
Key man life insurance is used to protect a business when the CEO or head of the company dies, as well as any important persons in a business. Often this includes presidents, vice presidents, head scientists, CTOs, CMOs, and others.
Costs will depend on the age and health status of the key person being insured.
"Business life insurance" is another term used for this type of insurance, which is also known as "key man", "keyman" or "key woman" insurance.
Get average key person life insurance rates!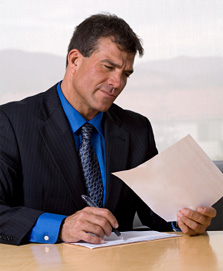 Like any life insurance policy, when the policy holder passes away, the beneficiary, in this case the company, receives the lump sum payment. This money is then used to pay off creditors or buy out the deceased's share of the business. By having this financial security, the company then has time to decide how to replace the deceased key person.
When you first set up a company, many banks will refuse to offer a business loan unless you have life insurance on the key members of that business. While you may not agree, you may not have a choice.
Key Points:
It is a life insurance policy purchased by a company on a key executive or employee.
It provides financial protection if that critical person dies or cannot work.
For small businesses, the key person is often the founder or owner.
The company pays the premiums and receives the death benefit payout.
The payout can help the company replace the person or shut down orderly if needed.
It gives options other than immediate bankruptcy if the key person is lost.
It can cover lost revenue or costs to find and train a replacement.
It provides time for the company to implement strategies to survive the loss.
Get Your Own Key Person Life Insurance Quote!
Costs of Key Person Insurance and Typical Amounts
The amount of coverage needed depends on the company's size, nature, and the key person's role. Getting quotes for policies from $100k to $1 million makes sense.
Term life policies are generally much less expensive than permanent life insurance.
Costs vary based on the key person's health, age, gender, the policy type and amount, the company's industry and structure, and other factors.
It's advisable to get multiple quotes to compare costs for the same coverage amounts.
The premiums are paid by the company, so evaluating the person's importance and potential financial impact of their loss is crucial.
Weighing the costs against the potential payout and protection for the business is important.
A licensed insurance agent can provide guidance on appropriate coverage amounts and most cost-effective policy options.
Selecting the right level of affordable coverage is key to making key person insurance worthwhile.
Get Your Own Key Person Life Insurance Prices!
Average 20 year term rates on a $500,000 policy for a key man, 40 to 65 years old.
| Insured | $500,000 |
| --- | --- |
| 40 year old key man | $30.35 |
| 45 year old man | $51.32 |
| 50 year old key man | $77.79 |
| 55 year old male | $124.56 |
| 60 year old male | $212.85 |
| 65 year old key person | $403.25 |
09/06/2023 - These life insurance rates are just an estimate. Your policy costs will be different.
Get a key person life insurance quote!
How Does Key Person Life Insurance Work?
Obtaining key person insurance involves a company buying a life insurance policy for a critical employee and paying the ongoing premiums. The company is named as the beneficiary of the policy. If the key employee dies, the company receives the death benefit payout from the insurer.
The funds can then be utilized in various ways. One option is to cover expenses related to hiring and training a replacement. Alternatively, if losing the key employee means the business is no longer viable, the payout can help dissolve the company in an orderly fashion.
The company could use the money to pay off debts, return funds to investors, provide severance packages for remaining staff, and close up shop. In essence, the death benefit can give a business alternatives to abruptly shuttering following the loss of a person essential to operations.
Keyman insurance aims to provide a buffer and transition period rather than forcing an immediate bankruptcy.
The Internet Makes Shopping For Life Insurance Easy
Using the Internet, you can get started researching life insurance policies and finding rates. This is one of the best ways to look into it because the companies will be competing for your business. Competition helps drive prices down.
Your Business
The insurance companies will need to know about the business so that they can help you determine how large the policy needs to be. They will require, in many cases, a health examination, medical history, the family's medical history and then information on the key man's hobbies. Things like sky diving, SCUBA diving, piloting and other sports can negatively impact your insurability driving rates up.
Get keyman life insurance rates!
Type Of Insurance Policy
Most key person life insurance policies are usually whole life policies, but this doesn't always have to be the case. It is important to check with the business loan agent if the insurance policy is a requirement. Otherwise, you may find some term life policies that are much more affordable.
If the life insurance policy isn't required for the business loan, you still must consider how much potential business loss would occur if the key man passed away. You will need enough to cover what he or she was paying into the business, the loss of work that will result from his or her death and any expenses that might arise if he or she died. These factors will help you decide on the benefit amount.
Once you have a firm costs figure, make the most of your insurance shopping by spending time searching for the best deal. Make sure you read the fine print so that there are no riders that catch you off guard later. Many times, people forget to read the riders and this can be costly in the long run!
Get key man life insurance rates!
Summarizing
The bottom line is that key person insurance gives companies crucial financial protection if they lose an employee vital to success. The death benefit payout can keep the business afloat in the aftermath of the key individual's passing.
Specifically, the funds may be used to cover expenses related to finding and training a replacement, or winding down operations in an orderly manner if continuing is not feasible.
For small businesses and startups especially, obtaining the proper key person insurance coverage with adequate payout amounts can make the difference between staying open or shutting down if catastrophe strikes.
Carefully selecting appropriate policies and coverage details is essential to ensure key person insurance provides the stability and financial security needed to survive unexpected loss of leadership or talent. When purchased wisely, this specialized insurance can make or break a company's future.